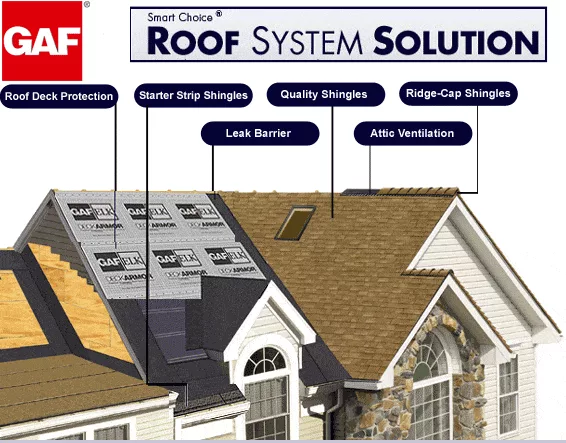 At Roof Right Now we use GAF products so that we can offer our customers the best possible materials at the best possible price from the top roofing manufacturer in North America. Our roofing system also has the top warranty in the industry and is backed by both GAF and Roof Right Now.
Here in Dallas, we highly recommend Impact Resistant Roofing Systems to our customers because of the frequency of hailstorms in the area. Our processes are efficient, consistent, and proven, creating a seamless roofing experience for our customers. Here is a step by step of how we approach each job.
Step 1: Remove Existing Shingles and Felt Paper
All existing shingles and underlayments will be removed entirely from the roof. This assures that we can thoroughly inspect all roof decking. Unfortunately this is not the norm in the greater North Texas area, as most contractors are willing to remove shingles but not felt paper. At Roof Right Now we take pride in doing the job the right way and will always remove ALL existing roofing materials so we can begin our work on a fresh canvas. We also install a blowback system before every job, assuring that all landscaping, windows, and cladding will remain unscathed. Tidiness is something we take great pride in.
Step 2: Remove and Replace any Defected or Rotted Wood Decking
In order for a new roof to last, it needs to be constructed on a rock solid foundation. Typically, areas around protrusions, roof edges, and valleys are in the roughest shape. If any of this, or any wood for that matter, is compromised we will be sure to replace it before we begin building our new roofing system.
Step 4: Install F-Style Drip Edge:
In an effort to properly protect both the rake and eave edges of the home, we will install an F-Style drip edge around the entire perimeter of our roofs. The F-style drip edge will make sure that water will not adhere to the underside of the shingles and thus compromise the integrity of the roof decking at its most vulnerable areas, the edges. The F-Style drip edge comes in 10 foot long strips and has an extrusion designed specifically to support properly overhanging shingles at the roof's perimeter.
Step 4: Install StormGuard Ice and Water Shield Around All Protrusions, Valleys, and Other Vulnerable Areas:
The most vulnerable areas of roofs require additional protection. An easy way for a large portion of contractors to cut corners is by skimping on areas that nobody sees once the job is complete. Ice and Water Shield is an easy place to start. Some contractors cut the roll in half to save on material costs, while others don't use it at all.
At Roof Right Now, we use GAF StormGuard Ice and Water Shield. This self-adhering bituminous membrane, or SAM, has an aggressive self-adhering underside, and fiberglass reinforcement that helps prevent wrinkling and buckling, while self-sealing around all nails. This comes in a 90 pound roll that is 3 feet wide, and we will never short change our customers with its use. We cover every valley, wrap every protrusion, and apply at all roof junction points to assure that your new roofing system will not leak.
Step 5: Install TigerPaw Roof Deck Protection:
Before the shingles are installed, an underlayment is required to protect the entire deck surface. For many years, the asphalt based organic felts were the only option. In the Dallas market, organic felts are still the norm, with most contractors using #15 felt, and some using the thicker #30 felt.
At Roof Right Now, we exclusively use synthetic felt, and keeping in stride with GAF's Weather Stopper Roofing System, we use TigerPaw as our primary underlayment. Unlike organic underlayments that trap moisture in the attic space and on the surface of the roof deck, TigerPaw's unique polypropylene based construction allows for complete breathability of the roofing system. It is also does not disintegrate over time like organic felts will. It lays flatter on the roof, is easier to work with, completely prevents water infiltration, will not buckle, and does not rip. TigerPaw is the right underlayment choice for a roofing system that will withstand the heat, wind, and unpredictable storms of Dallas.
Step 6: Install Pro-Start Starter Strip Starter Shingles:
Shingling is a process that begins at the eave edge of a roof and finishes at the ridge. In today's market, pre-cut eave and rake starter strips are one of the most overlooked parts of a roofing system. That's because some contractors try to use a cut-up 3 tab shingle as the "starter" course on your roof. Unfortunately, cut-up 3 tab shingles do not have properly positioned adhesive to ensure adequate wind resistance. At Roof Right Now we use GAF's Pro-Start Starter Strip on all of our eave and rake edges. This properly engineered starter shingle is both mechanically fastened and self-adhering. On its face is a bead of factory applied DuraGrip which creates non-weather-sensitive adhesion. With GAF's Pro-Start Starter Strip, the edges of your roof are secured properly.
Step 7: Install Timberline ArmorShield II Impact Resistant Shingles:
It is no secret that hail damage is the number one reason why homeowners replace their roofs in Dallas. Not surprisingly, a good hailstorm can completely decimate your roof, triggering a painful insurance process and a potential increase in your premium. Why not install a shingle that can withstand pounding?
At Roof Right Now we highly recommend that our customers choose a shingle that has been specifically engineered for the hailstorms of Dallas, GAF's Timberline ArmorShield II. The ArmorShield II shingle looks identical to the Timberline HD architectural shingle, but it is infused with SBS modified rubber to ensure for significantly greater impact protection. Timberline ArmorShield II passes the UL 2218 Class 4 impact test, and qualifies for insurance discounts of up to 30% or more in the state of Texas (check with your insurance agent). Each shingle is labeled with special information needed to qualify for premium discounts according to the requirements of the Texas Department of Insurance—a standard that most hail insurers accept.
In addition to all the impact resistant features of the Timberline ArmorShield II, it also meets Class F wind ratings from Underwriters Laboratories— the highest rating possible. Duragrip adhesive seals each shingle tightly and reduces the risk of shingle blow-off. In addition to a roofing system that is warrantied for wind gusts up to 130 mph, there is also a copper based StainGuard impregnated into each granule that is designed to protect the roof from harmful and unsightly algae, lichen, fungus, and other plant growth. Timberline ArmorShield II is a shingle specifically designed to protect your home from Texas weather and save you money while doing so.
Step 8: Install Seal-A-Ridge Ridge Cap Shingles
In order to see any insurance savings whatsoever, make sure you use the proper ridge cap shingles. Seal-A-Ridge ridge caps are triple the thickness of ordinary shingles and are infused with the same SBS modified rubber to create an impact resistant ridge. The color schemes match perfectly with the Armorshield II shingles, and the malleable design of Seal-A-Ridge ridge caps allows for proper curvature regardless of how steep the pitch of your roof is. At Roof Right Now, we install Seal-A-Ridge ridge caps to make sure the highest point of your roof is truly the backbone of your home.
Step 9: Address Ventilation Issues to Prolong the Life of Your Roof and Earn You Government Rebates
In order for your roof to "breathe properly," there needs to be both adequate intake ventilation and exhaust. In other words, there needs to be a point in which air can enter an attic space, and another point for air to exit an attic space. Through the process of convection, or airflow, the roof deck is kept cool, and the roofing system is able to stand up to the incredible Dallas heat. Unfortunately, over 80% or attics in the United States are inadequately or improperly ventilated. If a new roofing system is installed without proper intake and exhaust ventilation, the manufacturer's warranty is void immediately.
At Roof Right Now, we find that most of the jobs we encounter require some type of attention from a ventilation standpoint, and we address this problem in a variety of ways. For some homes, the simple drilling of additional soffit vents is the answer as a way to provide the proper amount of intake ventilation. For other residences, the addition of a properly cut ridge vent might be the answer. Whenever possible, we can also balance a home's ventilation equation through the installation of solar powered attic fans, made by Attic Breeze. These fans provide an effective ventilation solution for many of our customers by continuously removing attic heat and moisture buildup throughout the day, resulting in a more comfortable home that requires significantly less energy to cool. In addition to monthly energy savings, the solar powered attic fan by Attic Breeze also qualifies for a 30% federal tax credit on each and every installation, saving our customers thousands of dollars.
Step 10: Help You Earn Even More Rebates From the Government:
At Roof Right Now, we are fully committed to giving you premium roofing products at the best possible price. Obviously our solar powered attic fans qualify for the full 30% government rebate off of both product and installation, and the good news is so do our skylights. If you have skylights in your home that are leaking, foggy, or you are just ready for an upgrade, why not replace with a product that will earn you a 30% rebate from Uncle Sam.
The VELUX Solar Powered "Fresh Air" Skylight might be the perfect answer for your home. This skylight features a solar panel that captures any available daylight and uses it to recharge a highly efficient, fully concealed battery powered operator and control system. The battery powered operator is the power source that opens and closes the skylight. A rain sensor is built in to close the unit in the event that inclement weather arises while you're away. Control the functionality with an easy to use remote control. Put money back in your pocket with a product that both beautifies and adds value to your home.